Robert F. Kennedy visits Dubuque
By John T. Pregler
On Sunday, October 9, 1966 U.S. Senator Robert F. Kennedy of New York, younger brother of the late President John F. Kennedy, visited Dubuque, Iowa on an Iowa campaign tour for family friend and U.S. Congressman from Iowa's Second District, John Culver. [1]  Rep. Culver was a college classmate and football teammate of Kennedy's younger brother, Teddy, at Harvard University in the early 1950's. [2]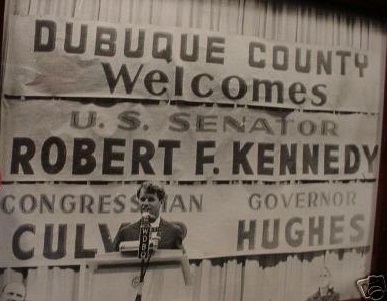 By October of 1966 Robert F. Kennedy's national and international popularity was surpassing that of President Johnson's.  Kennedy made a historic trip to South Africa in June of that year, denouncing apartheid, while back home he was increasingly questioning the Johnson Administration's conduct of the Vietnam War. [3]  Kennedy was on the cover of TIME magazine's September 16, 1966 issue.  And now he was coming to Dubuque to what the Telegraph-Herald referred to as a WILD WELCOME FOR BOBBY. [4]
Dubuque Mayor Walter A. Pregler and Dubuque County Democratic Chairman T.J. Mulgrew, [5] along with an estimated 1,200 cheering fans, greeted Senator Kennedy as he arrived onboard a private twin-engine plane at the Dubuque Airport about 6:30 p.m. that Sunday evening. [6]
At the time, Mayor Pregler, Gov. Hughes and others were working with Rep. Culver to petition Senators Robert F. and Edward M. Kennedy and their Senate Committee on Labor and Public Welfare for federal funding to build the Dubuque Flood Wall in response to the Flood of 1965. [7]
Kennedy, along with his entourage and approximately 20 journalists from the national press traveling with the Senator, left the airport after Kennedy shook hands with a lucky few pressed against the fence line.  The large procession from the airport repeatedly stopped on its route to the Dubuque Senior High School gymnasium where an estimated 3,000 eager fans awaited the arrival of the very popular Senator.  Kennedy started his speech almost two hours behind schedule due to his late arrival and the continual stops to greet fans that aligned the eight mile drive from the airport to the high school. [8]
Kennedy spoke for about an hour.  He promoted Rep. Culver for re-election in his race against the mayor of Cedar Rapids.  He sang the praises of the popular Gov. Hughes.  And he called out an old "girlfriend" in the crowd.  "It's nice to see an old girlfriend of mine, Mrs. Mulgrew, out there", he said. [9]  Mrs. T.J. (Joan Virginia Kiernan) Mulgrew II was a close school classmate and friend of Kennedy's sister Jean and used to spend time with the Kennedy family at their home on Cape Cod. Kennedy and the young Joan Kiernan briefly dated in 1943.  Mrs. Mulgrew's husband, Thomas James Mulgrew II, was Dubuque County Democratic Party Chairman in 1966 and chief organizer and man responsible for getting Kennedy to Dubuque. [10]  T.J. and Joan Mulgrew are parents of Hollywood actress and Dubuque native Kate Mulgrew. [11]
Kennedy also pointed out his connection to two Dubuque natives who worked in the Kennedy Administration: John Reilly, former aid to then Attorney General Robert Kennedy, and Edward McDermott, President Kennedy's director of the Office of Emergency Planning. [12]
Sen. Kennedy closed his speech with a passage from the Irish playwright George Bernard Shaw that Kennedy had quoted in his 1964 Democratic National Convention speech he gave in honor of his recently assassinated brother, President John F. Kennedy.  Kennedy told the crowd in closing, "Some see things as they are and say why.  I see things as they never have been and say why not."  After Kennedy finished his speech, he walked the lines, shaking hands with the young, ecstatic, and sometimes hysterical crowd stretching out in hopes of reaching far enough to touch the popular Senator. [13]
The Senator, his entourage, and the Iowa delegation soon left the high school and headed to a private reception at the Swiss Valley Chalet south of Dubuque before Kennedy headed to the airport and back to his home in Washington, D.C. [14] 
Published June 7, 2017
---
---
[1] (Shively, Bobby in Dubuque 1966)
[2] (Kovacs 2012)
[3] (Wikipedia 2017)
[4] (Shively, Wild Welcome for Bobby 1966)
[5] (Pregler 2017)
[6] (Shively, Wild Welcome for Bobby 1966)
[7] (Pregler 2017)
[8] (Shively, Wild Welcome for Bobby 1966)
[9] Ibid.
[10] (Encyclopedia Dubuque 2016)
[11] (Encyclopedia Dubuque 2016)
[12] (Shively, Wild Welcome for Bobby 1966)
[13] (Shively, Wild Welcome for Bobby 1966)
[14] Ibid.
---
Bibliography
Encyclopedia Dubuque. 2016. MULGREW, Kate. November 17. Accessed May 19, 2017. http://www.encyclopediadubuque.org/index.php?title=MULGREW,_Kate.
—. 2016. MULGREW, Thomas James II. December 30. Accessed May 19, 2017. http://www.encyclopediadubuque.org/index.php?title=MULGREW,_Thomas_James_II.
Kovacs, D. Simone. 2012. The Harvard Crimson. May 21. Accessed May 19, 2017. http://www.thecrimson.com/article/2012/5/21/john-culver-institute-politics/?page=single.
Pregler, Walter A., interview by John T. Pregler. 2017. (May 19).
Shively, Neil. 1966. "Bobby in Dubuque." The Telegraph-Herald, October 9: 4.
—. 1966. "Wild Welcome for Boby." The Telegraph-Herald, October 10: 1; 18.
Wikipedia. 2017. Robert F. Kennedy. May 2019. Accessed May 19, 2017. https://en.wikipedia.org/wiki/Robert_F._Kennedy.