This article originally appeared in the August 2022 special edition insert "A Perfect Game," produced by the Dubuque Telegraph-Herald and TH Media.
Nothing goes better with summer than being outside at a ballpark with family and friends, the sounds of laughter and merriment, a cold drink in hand, and eating that popular American summertime cuisine, the hot dog.
Ever since food concessionaire Harry M. Stevens served the first German "dachshund" sausage in a roll at a New York Giants baseball game at the Polo Grounds in 1901, the sausage, wiener, or frankfurter in a bun has been popularly known as the hot dog and associated with our National Pastime. From then on, every major league ballpark knew it had to have a quality ballpark hot dog to serve the hungry fans coming to the park every day.
What child doesn't remember unwrapping their first steaming-hot ballpark frank?! I still remember my first Wrigley Field Vienna hot dog over 40 years later! I knew it was no ordinary hot dog like I'd get at home, and I couldn't wait to return to another game, as much for the hot dogs as for the opportunity to watch my favorite players.
These impressionable moments not only produced lifetime memories, but they also turned fans into longtime customer. This was not lost on the Dubuque Packing Company.
Dubuque Packing Company
Next to the Dubuque Royal Buffet Canned Ham, nothing says Dubuque Pack more than the Plumpers Beef Frank hot dog.
Many a Tri-State resident spent a career working for the Dubuque Pack in the form of the Dubuque Packing Co., FDL Foods Inc., or Hormel Food Corp. and remember making the Pack's version of their ballpark frank – the Dubuque Plumpers Beef Frank hot dog.
The Dubuque Pack produced the larger-than-average hot dog and started a marketing campaign to get the Plumpers into MLB ballparks around the country. The marketing department developed special Plumpers' packaging and advertising campaigns to sell Plumpers in local markets as a local team's official hot dog.
In Milwaukee, you could enjoy a Brewers Plumpers hot dog at a game at Milwaukee County Stadium and be assured by your game program advertisement that Plumbers, "Taste just as great cooked at home, too. So pick up a package at the store today. Milwaukee Brewers Plumper's by Dubuque."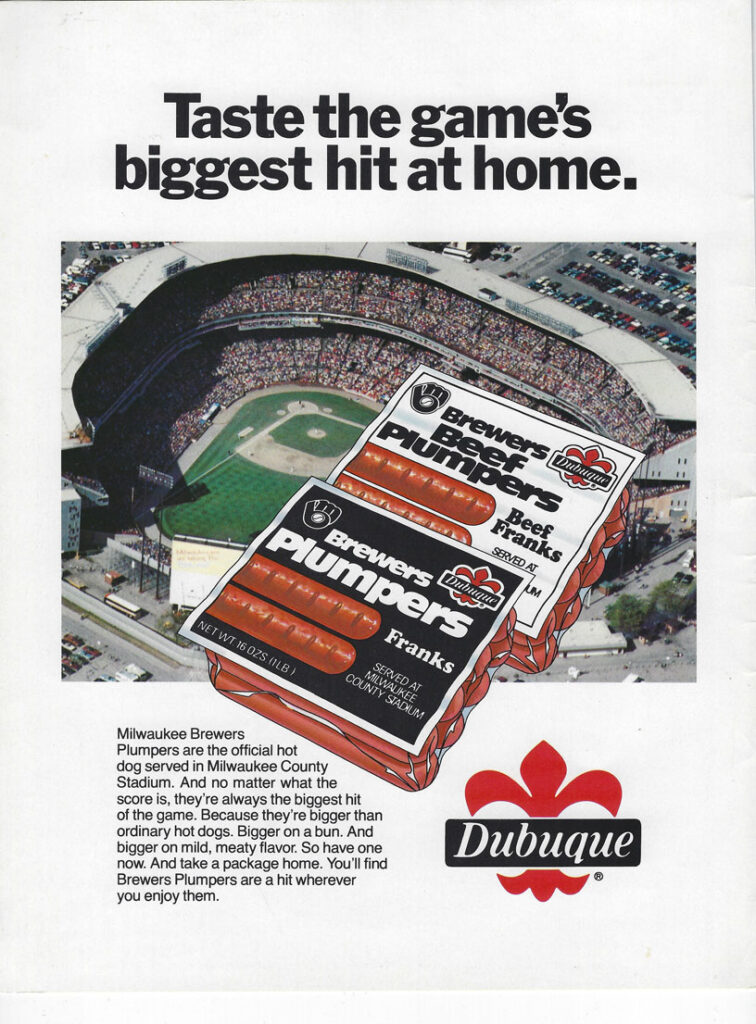 Dubuque Sausage Summit
In 1977, the Dubuque airport played host to a meeting between the Dubuque Packing Co. and three owners of Major League Baseball teams: Bill Veeck of the Chicago White Sox, Ewing Kauffman of the Kansas City Royals, and the Singing Cowboy, Gene Autry, owner of the California Angels.
Autry had met Art Wertzberger, the west coast sales and distribution manager for the Dubuque Packing Co., at a Chamber of Commerce function. When Autry learned Wertzberger once was a sausage maker and his brother was a vice president for the Dubuque Pack, he told Wertzberger he would do anything for a quality hot dog for his ballpark. Wertzberger invited Autry to Dubuque and soon the Singing Cowboy had his preferred frankfurter for his ballpark's fans.
Dubuque Plumpers Beef Franks were served at the Atlanta Braves, California Angels, Chicago Cubs, Chicago White Sox, Kansas City Royals (and the NFL Chiefs), Milwaukee Brewers, and Minnesota Twins ball parks.
Advertising Dubuque Plumpers in MLB Ballparks
The Dubuque Pack wanted to do more than sell Plumpers in the MLB baseball parks. It was the Packs desire to have fans fall in love with the Plumpers hot dog at the ballpark and buy packages and make them at home when not at the game, and not just in summer, but year-round. To do this required persistent advertising in the MLB metropolitan markets that had ballparks that served Dubuque Plumpers.
Advertising came in many forms. Advertisements inside game-day programs were a common way to get the message across that you could buy your favorite ballpark hot dog at your local grocery store. To aid in this effort, the Dubuque Pack created special packaging so in the Minneapolis-St. Paul metro area you could purchase Twins Plumpers by Dubuque. In Kansas City it was Royals Plumpers by Dubuque.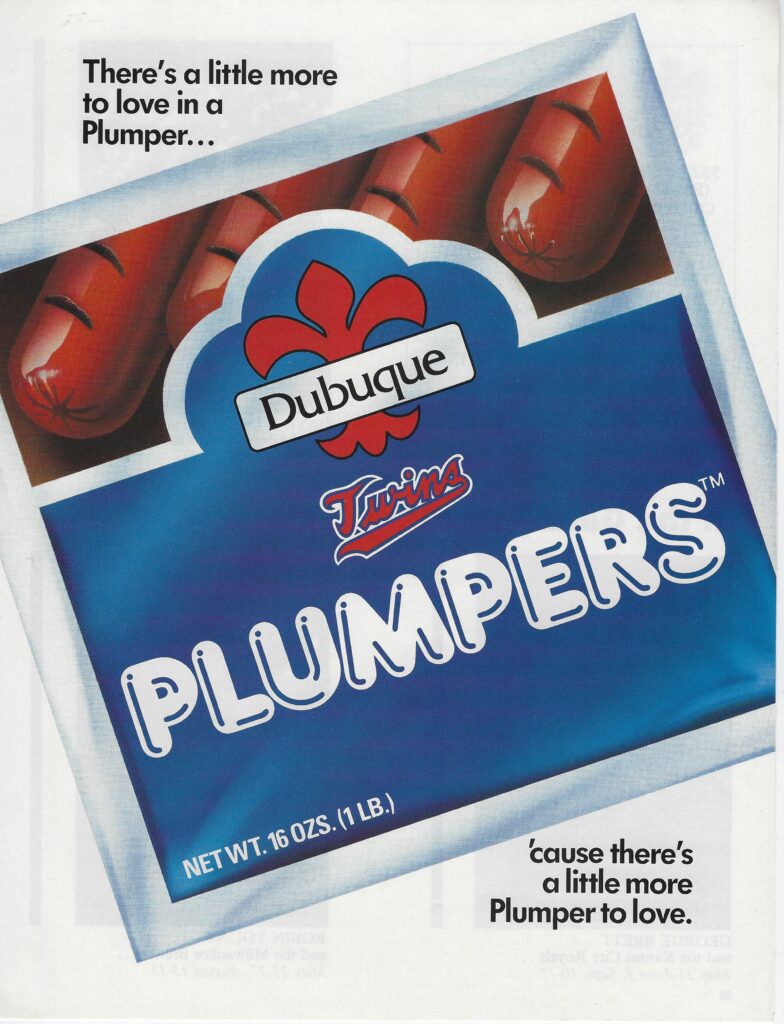 The Dubuque Pack would also produce folded pocket schedules for a team's season with the name Plumpers and the Dubuque logo prominently displayed. These would be placed at points of sale in the ballpark and wherever Plumpers were sold in a specific team's metro area, free for the fans taking.
Besides advertising inside game-day programs and pocket schedules, the Dubuque Pack also advertised on billboards inside of ballparks. When major leaguer and Dubuque-native Kevin Rhomberg's Cleveland Indians came to Milwaukee to play the Brewers in September of 1983, the Dubuque Telegraph-Herald had a picture of Rhomberg warming up on the field at County Stadium with a large billboard in the background with a picture of a package of Brewers Plumpers by Dubuque prominently displayed.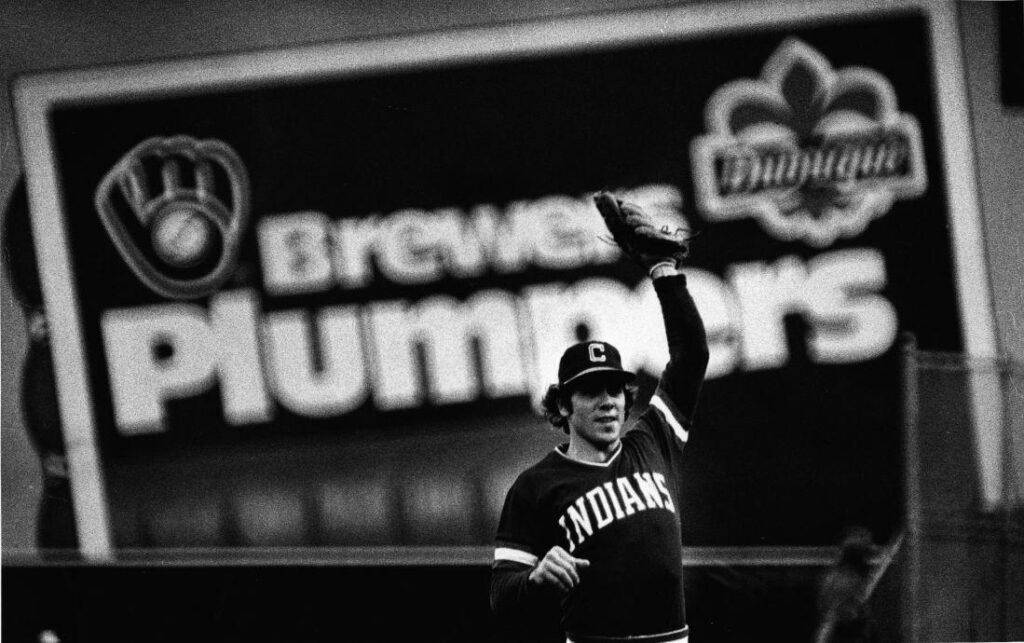 In 1979, the Dubuque Pack produced a complimentary team photo album for San Francisco Giants fans that included color images of the team players with a short bio and stats. 1979 players included Hall of Famer Willie McCovey, Jack Clark, and Vida Blue. There were also Giants' vinyl rain jackets with the Dubuque Plumpers logo available for sale at Candlestick Park.
In 1983, Chicago hosted the 50th Anniversary of the MLB All-Star Game at Comiskey Park. The Dubuque Pack sponsored the vinyl rain jackets made available that evening in the event of rain. The jacket had an All-Star Game 50th Anniversary logo on the front left breast, overtop the Chicago skyline and White Sox logo. On the back, just below the neckline was the Dubuque Pack logo atop the White Sox and Plumpers logo.
Dubuque Pack Baseball Cards
The Dubuque Pack and the Atlanta Braves produced team baseball cards under the Dubuque logo for the 1989, '90, and '91 seasons. Cards included future Hall of Famers Tom Glavine and John Smoltz, slugger Dale Murphy, HOF manager Bobby Cox, and other stars of the game like Deion Sanders.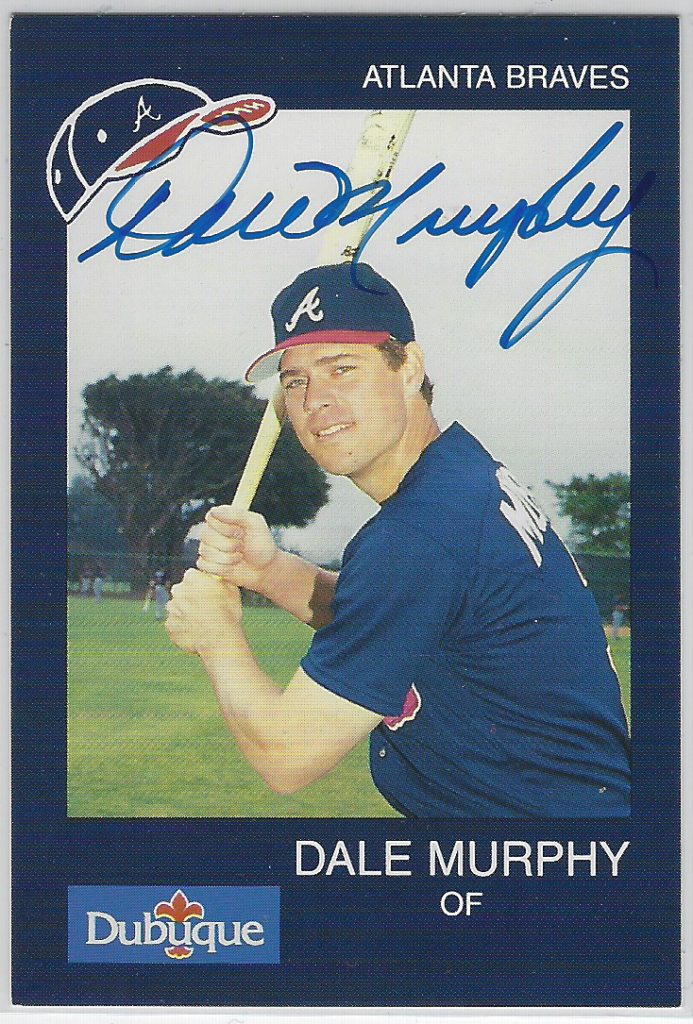 These baseball cards could only be obtained on gameday at Fulton County Stadium in Atlanta. During certain promotional card give away events, Braves players would autograph the cards.
Dubuque Pack also gave out an accompanying Atlanta Braves baseball card album.
The Braves and the Dubuque Pack also produced a promotional team photograph and individual player studio photos given away as a complete set in one perforated sheet during the 1990 and '91 seasons.
Dubuque Packers
The Dubuque Packing Co. also supported Dubuque's local minor league team, the Dubuque Packers, which started as a Chicago White Sox affiliate in 1954 and ended it last season as the Kansas City Royals first-ever minor league team in 1968. The Dubuque Packers took a five-year sabbatical before returning in 1974 for three more seasons – two years as a Houston Astros affiliate – before professional baseball left Dubuque permanently. Twenty-five years later, the Dubuque Pack and large-scale meat packing left Dubuque permanently.